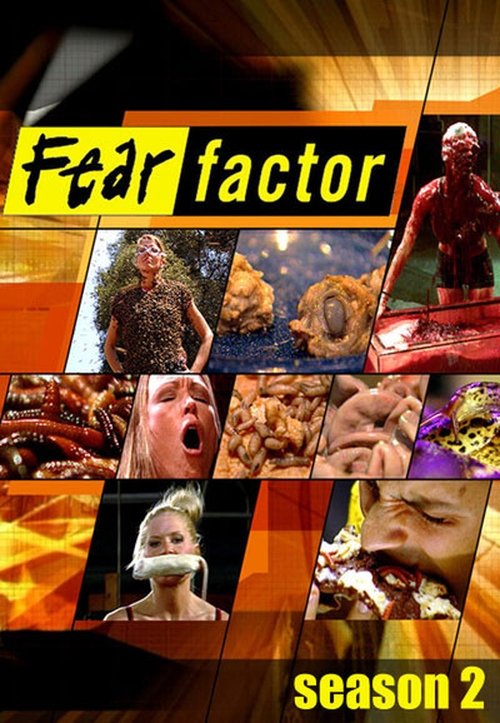 Series Name:
Fear Factor (2001)
Episode Name:
Boat Jump; Swimming with the Fishes; Flag Snag (2002)
Series Summary:
Fear Factor is an American sports stunt/dare reality game show. It originally aired between 2001 and 2006, when it was canceled. It was later revived in 2011, only to be cancelled again on May 13, 2012. After its second cancellation, a two-part special aired in July 2012. The original Dutch version was called Now or Neverland. When Endemol USA and NBC adapted it to the American market in 2001, they changed the name to Fear Factor. The show pits contestants against each other in a variety of stunts for a grand prize, usually of US $50,000. From Seasons One to Five, the contestants were generally three men and three women, all competing for themselves, but in Season Six, the show moved to a permanent format of four teams of two people, each with a pre-existing relationship with one another. The show was hosted by comedian and UFC commentator Joe Rogan, executive produced by Matt Kunitz and David A. Hurwitz and directed by J. Rupert Thompson.
Episode Summary:
Stunt #1: Boat Jump As two ultra boats raced down a lake at 40 miles per hour, contestants would have to jump the gap between them that was approximately 7 feet wide and land on the second boat. Contestants who jumped from boat to boat successfully would advance to the next round.
Stunt #2: Swimming with the Fishes Contestants would have three minutes to swim around in a tank containing 10 tons of dead squid, retrieve 5-pound weights, and hang them on a hook overhead. The contestant to retrieve the least weights would be eliminated.
Stunt #3: Flag Snag Contestants would have to shimmy out to the end of horizontal pole jutting from a rooftop 20 stories high. They would have to grab a flag, bring it back to the rooftop, clip the flag on a pole, and raise it. The contestant to complete this stunt the fastest would win the $50,000.
Creator:
Cast:
Joe Rogan
Genres:
Reality
Torrent size:
1.47 GiB
References:
Imdb – subscene – trailer – rotten tomatoes